Farewell and Anon and Be welcomed Lords and Ladies!
What thee bards and gleemen were for the common folk that were minstrals, troubadours and ensembles for the ceremonies and festivities of the wealthy and noblemen. As fair art thou, my music, that s sweetly played in tune…. Fare ye well…
Cantus Lunaris: International Vocal-Instrumental-Ensemble for old music
New Christmas Edition release Dezember 2016: "Spirits and Carlos"

https://cantuslunaris.bandcamp.com/album/spirits-and-carols
Debut Album : "Fabula Antiqua"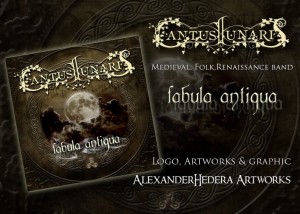 Debut CD of Cantus Lunaris : FABULA ANTIQUA
Please for info and order  : info (@] cantuslunaris.com

Thanks and hope you enjoy !:-)
——————————————————————————————–
GEMAFREIE MUSIK !
Booking if whished for Gemafree Music – Gemafreie Musik!
Big repertroire of international Folk, Celtic, Renaissance and early Barock music ! List of songs available for Gema !
—————————————————————————————
You can find us also:
www.reverbnation.com/cantuslunaris
www.facebook.com/cantuslunaris
Page-design by Olga Didenko,  Logo: Alexander Hedera
Impressum siehe Booking/Contact Seite.