Farewell and Anon and Be welcomed Lords and Ladies!
What thee bards and gleemen were for the common folk that were minstrals, troubadours and ensembles for the ceremonies and festivities of the wealthy and noblemen. As fair art thou, my music, that s sweetly played in tune…. Fare ye well…
Vocal-Instrumental-Ensemble for old music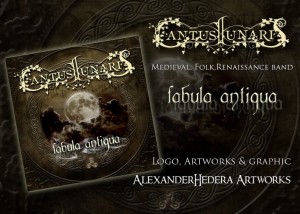 Debut CD of Cantus Lunaris : FABULA ANTIQUA
Please for info and order  : salecantuslunaris@gmail.com

Thanks and hope you enjoy !:-)
Reviews : 
20.5.2013
Last day at the Wave-Gotik-Treffen in Leipzig. Numerous concerts are also still on the program on Monday. Some followers of the dark scene contrast traveling since.
One of the highlights was the WGT including the appearance of "Cantus Lunaris" at the Battle Monument. Also this year, tenthousands of visitors flocked back to the meeting of the black scene.
Letzter Tag beim Wave-Gotik-Treffen in Leipzig. Dabei stehen auch am Montag noch zahlreiche Konzerte auf dem Programm. Einige Anhänger der schwarzen Szene reisen dagegen schon ab. Eines der Highlights beim WGT war unter anderem der Auftritt von "Cantus Lunaris" am Völkerschlachtdenkmal. Auch in diesem Jahr strömten wieder mehrere zehntausend Besucher zum Treffen der Schwarzen Szene.
http://www.radioleipzig.de/nachrichten/lokalnachrichten/finale-beim-wave-gotik-treffen-630448/
——————————————————————————————–
GEMAFREIE MUSIK !
Booking if whished for Gemafree Music – Gemafreie Musik!
Big repertroire of international Folk, Celtic, Renaissance and early Barock music ! List of songs available for Gema !
—————————————————————————————
You can find us also:
www.reverbnation.com/cantuslunaris
www.facebook.com/cantuslunaris
Page-design by Olga Didenko,  Logo: Alexander Hedera
Impressum siehe Booking/Contact Seite.